Illustrators Clean Up funktion
Når du arbejder med Illustrator, så vil du ofte efterlade nogle "usynlige" elementer. Det kan fx være et objekt, der ingen fyld eller streg har eller en tom tekststreng. Som regel har det ikke den helt store betydning. Men i nogle tilfælde kan det give problemer, fx hvis du ønsker at sammenflette to punkter, og får fat i et usynligt element. Disse usynlige elementer kan du se med menupunktet Outline (View> Outline eller Ctrl+Y), der viser dem som en outline. Du kan nu markere dem og slette dem.
Men en hurtigere måde er, at bruge Illustrators CleanUp funktion. Den finder du under menupunktet Object> Path> CleanUp, og funktionen ser således ud: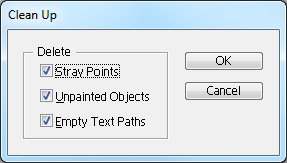 Her kan du vælge, hvad du vil have slettet. Stray Points er enkeltpunkter, Unpainted Objects er objekter uden fyld eller streg, og Empty Text Paths er tekststrenge uden indhold. Som regel vil du ønske at have alle tre punkter slået til.
Når du trykker på OK knappen, bliver disse elementer fjernet fra dit dokument.